For more than 50 years in the making we have built our reputation on service. DSC offers a full range of drug screening service, including drug testing for employers. We offer 24/7 after hours and on-site collections for drug testing.
Check out our training schedule to see how to gain valuable experience in testing techniques and procedures.
Drug Screen Compliance offers a one-stop shop for all of your company's drug-testing needs. Whether you need to meet the needs of government, industry or company, Drug Screen Compliance offers you the tolls and services to get you in compliance.
Workplace Toxicology Services

Pre-Employment Screening
DOT and Non-DOT Testing
Fixed and On-Site Collection Services
Random, For Cause, and Post-Accident Programs
MRO Contracting
Oral Fluid Testing
Multiple Reporting Options, including Web OASIS®
Capability to Analyze over 50 Prescription Medications
Specialty Testing, including EtG & EtS Alcohol Testing, Bath Salts, K2 and others.
D.O.T. Certified Drug Testing
DSC is partnered with Quest Diagnostics and CRL Laboratories. Both institutions are SAMHSA-approved laboratories for all Department of Transportation testing.
Non-D.O.T. Industrial Testing
Industrial Testing programs created to fit your companies' individual needs.
Random Requirements:
DOT requires random testing of covered employees with a minimum of quarterly testing spread evenly throughout the year.
| DOT Agency | Random Drug Testing Rate | Random Alcohol Testing Rate |
| --- | --- | --- |
| PHMSA | 50% | N/A |
| FMCSA | 50% | 10% |
| FTA | 50% | 10% |
| FRA | 25% | 10% |
| FAA | 25% | 10% |
| USCG | 50% | N/A |
Random Program
The cornerstone of every substance abuse deterrence program is verifiable, unbiased random selection. When we conduct workplace drug testing, DSC's computer system uses a basic and complete method to insure unbiased selections. It is double-blind selection method -- one in which neither the administrators nor the participants can predict or affect the outcome. The computer does not examine participants' IDs, length of service, Social Security numbers, nor does it take into account how many times, when, or whether participants have been tested in the past. It is also important to note that when we conduct drug testing at work, random selection is completely unaware of every previous random selection.
Random Selection Pool
This is the group of participants from which random selections are made. In the random selection process that we do during our on-site drug testing, the computer first creates the eligible pool and then makes random selections from the pool. Participants can be made eligible for selection based upon a user-selected configuration of eligible Companies, Home Bases, Occupations, Pool Groups, and DOT reporting status.
Consortium
A consortium is a group of companies that have been associated for the purposes of creating a single eligible pool for random selections and/or for printing cross-company statistical analyses and other reports.
Audits
Membership in DSC's Random Program gives employers access to expert assistance in complying with Federal and Industry mandated audits of a company's drug and alcohol testing program.
Client Required Compliance and Reporting
DSC provides drug and alcohol programs for companies that need to comply with Oil & Gas Operators (i.e. Apache, EnCana, Marathon, Enterprise, Exxon, Whiting Oil & Gas, Consol) who have specific personalized requirements. This includes drug and alcohol testing, written polices, random testing, employee list auto feed and/or uploading to auditors, statistical data reporting, and audit completion and support. DSC has over 25 years of experience in helping companies comply with Operator requirements.
Instant/Rapid Cup Testing
For the drug testing for employers that we offer, our company utilizes Noble instant drug testing cups for rapid testing and resulting.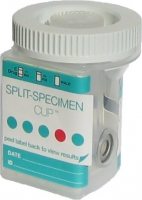 Rapid Cup
Noble's innovative drug test cup design eliminates urine handling and donor tampering, providing a unique and efficient approach for on-site drug testing. The Cup detects the presence of multiple drugs with laboratory accuracy within minutes. Results can be photocopied if necessary.
The patented key operated trigger system allows the collector to transfer 2 ml. of the specimen into the separate testing chamber. If the test reports a non-negative result, the cup can then be sent to the laboratory with the remaining untouched specimen for GC/MS confirmation. The Noble instant drug testing cup is an FDA approved medical device. Click here for pricing and details.
Hair Testing
We utilize both Quest Diagnostics and Psychemedics Corporation for hair testing.
At Quest Diagnostics we stand behind the quality and accuracy of our test results. When it comes to our hair testing program, we continue to maintain, and to demonstrate through scientific analysis, that our science, drug recovery and test results are reliable.
In a recent drug-spiking experiment of hair samples, Quest Diagnostics provides results for five drug classes, all with excellent recovery. This data shows that Quest Diagnostics hair testing process yields accurate, dependable results which in turn can help to facilitate confident, informed hiring decisions.
Quest Diagnostics: Hair Testing Drug Recovery Study
The Psychemedics Advantage - On average, 85% of the drug users identified by Psychemedics would have been missed by urinalysis. This is due not only to our much longer detection window of approximately 3 months, but also to our unique proprietary technology.
Because Psychemedics' technology is the only one that can extract out essentially all of the drug by liquefying the hair, we are able to provide superior detection and accurate results; especially when compared to other hair tests, as well as urine.
Student/School Testing
We specialize in school drug testing! We test many public and private schools, as well as universities, throughout Texas and New Mexico. We will customize a plan to align with your school's policy including which drugs of abuse we will test for and when and how the testing will be executed. Due to the unfortunate, increasing popularity of synthetic cannabinoids, bath salts and prescription pills among our youth we are able to test for all of these substances. We can also test for all other drugs of abuse including alcohol and steroids and we can with a hair, breath, saliva or urine drug test.
There are many advantages to implementing a random drug testing program. Most schools find that their rate of positive drug test results drops when they continue the testing on a monthly basis because it becomes a deterrent rather than just a punishment. It gives students an excuse to "say no". The threat of being excluded from a sport or extracurricular activity is often all most kids need to "say no" and stay drug-free and safe, which is the ultimate goal.
Third Party Collections
All six (6) DSC locations can also serve as a collection facilities if you are already in a testing program. Meaning, if you utilize another TPA or have your own in house program, we can still complete your testing requirements. We can come to your site or you can send your employees into one of our sites with your required testing form(s). We can also store your forms at our facility; or we are able to utilize Electronic Chain of Custody through Form Fox; or with an E-Screen passport.