For more than 50 years in the making we have built our reputation on service. DSC offers a full range of drug testing services. We offer 24/7 after hours and on-site collections for drug testing.
Check out our training schedule to see how to gain valuable experience in testing techniques and procedures.
In today's world there are many reasons for conducting a drug test outside of an employment situation. Parents or family members may have a need to test for the presence of substances that should not be in a persons system. DSC offers confidential testing and monitoring of drugs of abuse. A parent or guardian must authorize by signature, the test of any donor that is under the age of 18. We also conduct court mandated testing to meet a judge's orders. Contact us to discuss with a DSC professional the testing that will cover all of your needs.
Confidential Self-Testing
We offer the option to do confidential self testing; this means you are able to take a test for your own information in a confidential environment. You also have the ability to have the same test performed on you that a company may request you have done. But the great benefit of the self testing is that no one will be able to review the results but you. This is something that can be done as same day testing with results or we offer lab based testing with results in 24 to 72hrs. This gives you a chance just to make sure that you are aware of what is in your system for your peace of mind.
Another benefit of this testing is that we can release the results to whomever you designate, and they can also be used for court purposes with the proper documentation as well. We also offer self test that you can take home and no one will be able to view your results but you, in the privacy of your home. This is something new and very innovative that's happening in the drug screen world. This allows you to be able to find out results on your self before even taking a test for per-employment, personal use, or possibly court required testing. Remember these results are confidential and go directly to you.
Instant/Rapid Cup Testing
DSC utilizes Noble instant drug testing cups for rapid testing and resulting.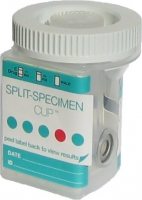 Rapid Cup
Noble's innovative drug test cup design eliminates urine handling and donor tampering, providing a unique and efficient approach for on-site drug testing. The Cup detects the presence of multiple drugs with laboratory accuracy within minutes. Results can be photocopied if necessary. If the test reports a non-negative result, the cup can then be sent to the laboratory with the remaining untouched specimen for GC/MS confirmation.
The Noble instant drug testing cup is an FDA approved medical device. Click here for pricing and details
Student/School Testing
We specialize in school drug testing! We test many public and private schools, as well as universities, throughout Texas and New Mexico. We will customize a plan to align with your school's policy including which drugs of abuse we will test for and when and how the testing will be executed. Due to the unfortunate, increasing popularity of synthetic cannabinoids, bath salts and prescription pills among our youth we are able to test for all of these substances. We can also test for all other drugs of abuse including alcohol and steroids and we can do so by collecting urine, saliva, hair or breath testing.